"I adopted two beautiful children internationally, both through Hopscotch Adoptions, and we are a grateful Hopscotch Family! Their teams, both here in the US and in-country, are wonderful to work with and, both times, really made the process very special." —MoMom
read more...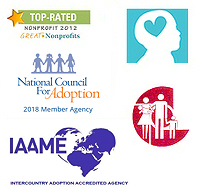 Resources Overview
As the goal of our agency is to provide guidance and caring through all steps of the often intimidating adoption process, we have created this site as one of our key resources. Other Hopscotch resources include everyone on our staff and board of directors, who have all experienced the personal joy of building our families through adoption. When coupled with our cumulative years of professional adoption experience, we know that we have all of the requirements in place to make good on our promise.
We understand the importance of timely information, of longstanding and collaborative relationships with in-country teams and officials involved in processing your adoption, of education and preparation on becoming a parent. For now, our site offers critical information on getting your adoption process started. We have big plans for expanding and improving this site, so that it can be a comprehensive resource to you.